Even the most seasoned road bike commuter can find themselves checked at the front door on dark winter mornings, as the rain lashes horizontally across the doorstep and the neighbour's cat flies past on a gale of wet leaves and debris.
It takes a special kind of determination to keep cycling through the colder months, when the car, tube or bus seem like a much warmer proposition. Still, many people do, and they reap the benefits of this continued exercise with advantages ranging from keeping trim for Christmas (and shifting the lbs afterwards!), raising endorphin levels to combat the 'winter blues' and even improving their chances against health problems such as cancer and heart disease.
Winter cycling isn't just about willpower (although we will admit it takes a lot!), it's also about being prepared and knowing how to keep yourself, and your bike, ready to handle everything that mother nature in her worst mood can throw at you. So whether you're a fixed-wheel professional, a fold-up bike enthusiast or just peddling along on your everyday commuter bike, we've listed our top tips to keep you and your bike in best condition so you can keep up the cycling smugness all year round.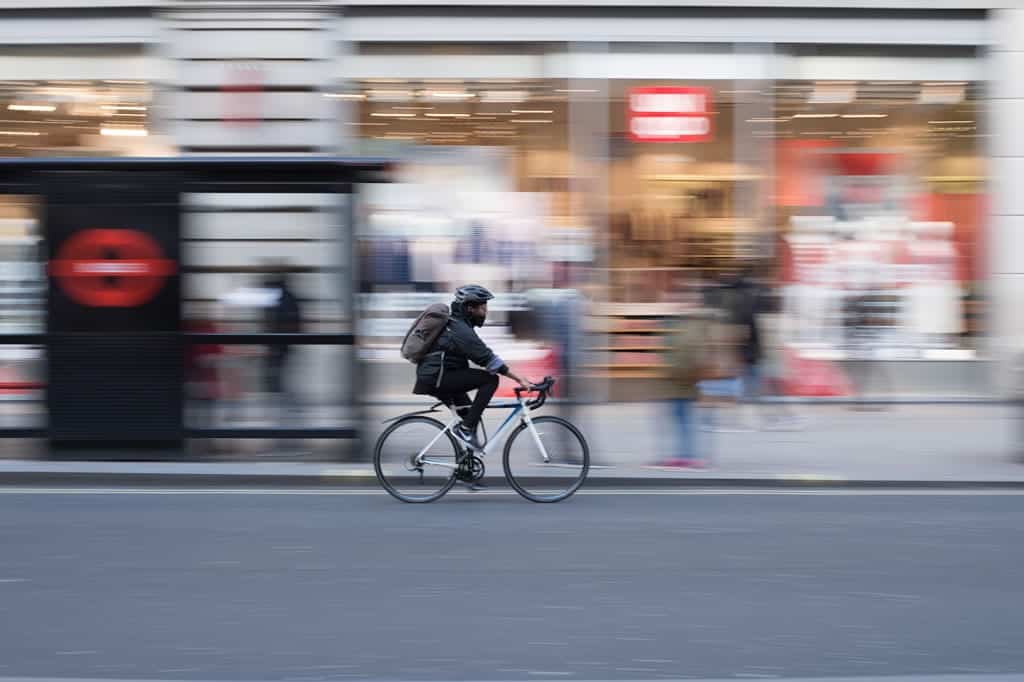 1. Maintenance. Maintenance.
Keeping your bike maintained is key to help keep you cycling in the winter months. Let's face it – it's not going to take much to convince you to ditch the cycle helmet and catch a cab instead if you're about to set out at 7am in the morning and find your bike isn't ready to go. Winter conditions can cause damage to bike components very quickly, with water ingress, traffic grime and salt from road grit all combining into a nasty mixture that can end your cycling good intentions in a heartbeat. After every day's riding, simply use WD-40's BIKE Degreaser to clean grease, grime and road dirt from chains, cassette sprockets and derailleurs. Simply spray on and wipe away with a cloth, repeating until the fast-acting fluid comes away clean. It will take minutes, and ensure that any nasty chain-seizing residues are dealt with before damage can occur.
2. Invest in some mudguards.
Yes, they'll ruin the lines of your sleek and beautiful road bike, but they will save you from the embarrassment of turning up at work with mud spattered up your back! Even on urban roads, it's surprising how much mud, grit and slush can build up along the kerbs, so mudguards can help keep you protected from what your wheels fling up. It's also considerate towards your following cyclists to ensure you're not creating a rooster tail of muck as you go!
3. Cleaning doesn't need to be a chore.
Cleaning your bike in the summer can be a nice weekend chore, but in the depths of winter it is the last thing you feel like doing once you've shut the door behind you. Keeping your bike clean is essential all year round, and especially so when mud, water, slush and other layers of grime can quickly build up. Try WD-40's exceptionally easy to use BIKE Cleaner, a total wash which can clean your bike in minutes. Simply spray all over a freshly rinsed bike, leave to work for a few minutes, and then sluice with fresh water for a sparklingly clean finish. It's safe to use all over, from handlebars and spokes to pedals and seat, saving you time, effort and ensuring you've got a nice clean bike come Monday morning.
4. All the gear and no idea.
There's always that one guy who's seen wearing bike shorts on his morning commute as the rest of the city shivers through minus temperatures. People stare at him incredulously as he whistles past, and consider what kind of maniac he needs to be to make that kind of wardrobe choice when there's still snow on the ground! As well as changing up your bike care for winter, you need to change up your wardrobe too. Layering is key when it comes to cold weather cycling, as although the air temperature is much colder, you can still produce a fair amount of body heat through your movements. Invest in some good sportswear base layers that will help wick away moisture and provide good air circulation, so as you get into your ride and start the blood pumping, you won't overheat, or worse find yourself sweating buckets and arriving at the office an absolute mess. The parts of your body most likely to feel the chill are those that are exposed to the elements, so coverage is key; a good pair of gloves (with grips; cotton gloves slip easily on handlebars), a headband to keep your ears warm, or a skullcap in the coldest weather, and some specialist cycling leggings to fend off the windchill factor – they'll take the worst of the dirt and you can change back into nice, dry trousers when you arrive.
5. Light the way.
Although injury and fatality numbers have thankfully decreased in recent years, it's still a known fact that cycling can be a risky business, especially on busy roads in dark, challenging conditions. Invest in good lighting for your road bike to ensure you can be seen by fellow road users in all conditions. Rechargeable LED lights are now available for even the most frugal budgets, and can provide unmissable light to help you be seen and stay safe as you travel. Also, as unfashionable as it may look in the cold light of day, light reflective clothing to wear as you ride is an absolute must. Think hi-vis jackets and reflective vests to make a real retro fashion statement! If you want to similarly kit your bike out to match, consider using highly effective high-vis reflective tape to make wheel rims stand out in headlights, or for a touch of nostalgia, get yourself some spoke reflectors. Sadly they don't give these away for free in cereal boxes anymore!
6. Lubricate to suit the conditions.
Everyone knows you need to keep your bike lubricated all year round to maintain, protect and extend the life of moving components. But if you're just throwing the same old lubricant on as you were in the heady days of summer, then you could be lulling yourself into a false sense of security. Any lubrication is good lubrication, but in winter you need to consider the elements and whether your current product can stand up to the extra harsh conditions, from mud, dirt and increased moisture in the air, to frost, snow, salt grit and freezing overnight temperatures. WD-40 BIKE Wet Lube is specially formulated for challenging conditions, resisting water ingress and repelling mud, grit and dirt to keep components clean and working soundly even through the worst winter storms. Smooth and easily penetrating, it can get right down into the smallest spaces, and expel water that may otherwise rust, corrode or freeze to cause unseen damage. Use it to lubricate your chains, derailleurs, sprockets and any moving parts at risk of spray as you ride.
7. Think about your tyres.
Road conditions are more treacherous in winter, so consider investing in some winter tyres. Slightly softer, wider tyres will help give you more traction on difficult surfaces, be it frosty roads, wet road markings or slippery manhole covers. If you've got the money to shell out, then get some specialist tyres that are more resistant to punctures and damage – no one wants to get stranded at the side of the road with a puncture, but worse so on a dark February night with little help in sight.
8. Review your route.
If this is your first winter commuting by bike, then it can't hurt to give your route a once over. When you know your end destination, it can be very easy to just follow the same route every day, usually the one that gets you from A to B in the least time possible. But in winter, there may be an alternative side road, or junction, or even a cycleway that will prove to be safer, easier and ultimately better for you to use. Your journey time may be slightly lengthened, but if it means you can keep safer as you cycle then it's worth a try and may even become part of your summer route too.
If you've got any other tips, we'd love to hear them, especially if you've incorporated WD-40 products into your winter care routine. And to all the cyclists out there, stay safe and keep peddling!
BIKE Degreaser – quick-drying effective degreaser, for cleaning chains, deraillers and cogsets
BIKE All Conditions Lube – High quality PTFE Lube for maximum lubrication in all weathers and conditions
BIKE Cleaner – An all-in-one spray-on cleaner that quickly and easily removes mud, dirt, dust and reside from your bike
BIKE Dry Lube – Specially formulated lubrication suitable for dry and dusty conditions
BIKE Wet Lube – A PTFE-based formula that works in wet and muddy environments