We're proud to announce WD-40 UK is supporting this year's #footballshirtfriday in association with the @BobbyMooreFund
This year's Football Shirt Friday is on November 20
We're going to be building up to that date over the next four weeks.
Find out more here : #footballshirtfriday
Get involved today : Football Shirt Friday NOV20 2020
Long gone are the days of football kits being solely about showing your colours or imitating your idols when playing with mates. Football shirts have entered the mainstream and are now a legitimate fashion statement in their own right.
Only this summer we've seen Bristol City release riotous home and away goalkeeper jerseys which will surely transcend the West Country thanks to their bold patterns. Further down the English football pyramid, Clapton FC of the Essex Senior League have an away kit which is a kaleidoscope of colours. Despite playing in England's ninth tier, the amateur side have sold more than 16,000 shirts around the world with a high volume purchased by kit fanatics in Spain.
Further back, the collaboration between Nike's Jordan franchise and Paris Saint-Germain brought one of the most iconic sporting labels together with the most fashionable city in Europe. Last season, Arsenal released an homage to their 'bruised banana' away kit of the early 90s, a style which has spectacularly come back into fashion.
This isn't a new trend, though. Increasingly, the worlds of football and fashion have collided and this was never truer than in 2018.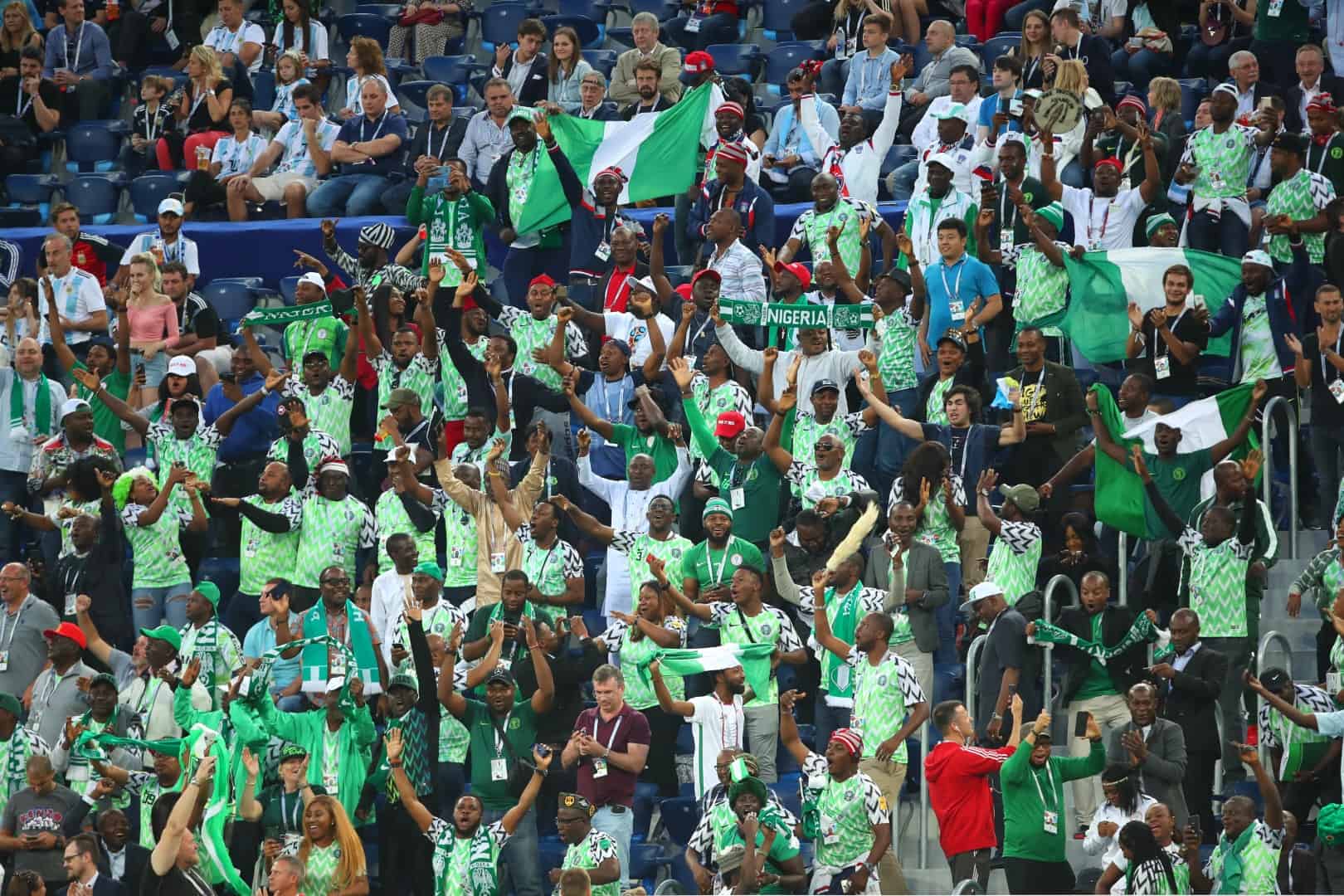 Nigeria were no-one's favourites ahead of the FIFA World Cup in Russia. But had the most prestigious prize in international football been dished out on kit sales, the Super Eagles would have been the runaway winners. A staggering three millions football fans pre-ordered their green and white zig-zag shirt ahead of the tournament – more kits than Manchester United sold in the entire of 2016 – with more queueing outside London's Niketown store on release day.
At this point, Nigeria hadn't even debuted the shirt, which was described by its manufacturers as a "subtle homage to Nigeria's '94 shirt, with its eagle wing-inspired black-and-white sleeve and green torso".
The shirt was even shortlisted for the Beazley Design of the Year award alongside established fashion labels Gucci, Burberry and Fenty Beauty. By now, football had well and truly crossed into a new era. The kit was re-released in 2019, a full year after it initially hit the high street, with a similarly frantic demand by football fans to get their hands on it.
But why is there such a demand for the kit?
Vanessa Friedman, Chief Fashion Critic at the New York Times, wrote in 2018: "I admit: I like the home jersey a lot. All those green zig zags have a nice speedy feel while also looking properly cool (a hard thing to do in technical sportswear without seeming as though you are trying too hard), and they contrast very well with the black pattern on the sleeves."
Therein lies the crucial point. The shirt is cool. It's not just athletic apparel but a piece of streetwear which wouldn't look out of place in a variety of settings. That was reinforced when grime star Skepta wore the shirt before it was even on sale to the general public, while Twitter – force for bad though it can often be – helped generate further hype.
Pete Hoppins, Nike's Design Director, explains how one of the most iconic kits in World Cup history came to be: "With Nigeria, we really wanted to tap into the attitude of the nation. There were three Nigerian qualities that drove this collection: the first of these is 'Supreme Confidence,' as Nigeria remains confident in their team no matter the stage or opposition. It is incredibly infectious. Secondly, the 'Youthful Squad,' because it's a special time for Nigeria with lots of exciting young players honing their skills all over the world in the best football leagues. The third and final, 'A True Football Nation,' with a tradition and history within the game."
The most pertinent of those three themes, though, is the attitude of the nation. The shirt was part of a wider collection called 'For Naija' a term used to identify the new Nigerian generation. The shirt, with its bold patterns and colours marries that exuberance, expression of joy and patriotism so synonymous with Nigerian culture.
That's why, more than two years on from its initial launch, Nigeria's 2018 World Cup jersey remains the most significant football shirt ever from a cultural, fashion and sporting perspective.