We're proud to announce WD-40 UK is supporting this year's #footballshirtfriday in association with the @BobbyMooreFund
This year's Football Shirt Friday is on November 20
We're going to be building up to that date over the next four weeks.
Find out more here : #footballshirtfriday
Get involved today : Football Shirt Friday NOV20 2020
Representing your country remains the pinnacle for any football-mad youngster. Growing up, former Tottenham Hotspur and Portsmouth winger Darren Anderton was no different.
Anderton went on to represent England 30 times in seven years, playing at two major tournaments and scoring seven times. Speaking while lending his support to the Football Shirt Friday campaign in aid of the Bobby Moore Fund for Cancer Research UK, the 48-year-old reveals he looked up to England's only World Cup-winning captain in his formative years.
"When you see someone like that he was just very normal but such an icon within football," Anderton explains. "As a footballer, you become pretty sheltered with certain things, but when you meet someone like Bobby you're in awe – it's as simple as that.
"He would always make you feel like you didn't need to be [in awe] and had a lovely way about him. He was an absolute genius of a footballer. Watching him lift the World Cup to watching highlights and iconic pictures of him and Pelé – little things like that make me realise how lucky I am to have played the game and played for my country."
Playing for England was just one highlight in Anderton's storied career. He was an integral part of Terry Venables' iconic side which reached the semi-finals of the 1996 UEFA European Championships held in England. Some 24 years on, it remains an unforgettable summer; the dentist's chair, Gazza's Scotland stunner, thrashing the Dutch and, of course, penalty shootout heartbreak against Germany.
Riding the crest of a wave and restoring national pride, it was a special time for the nation – and for Anderton, then a floppy-haired youngster starring for a gung-ho Tottenham.
"After the warm-ups I would stay out a little bit longer so you could hear the crowd signing it (Three Lions), then of course Gazza's goal (against Scotland) and the celebrations. Being part of that was madness," says Anderton.
"Then there was the Holland game. We were 4-0 up with half an hour to go, Football's Coming Home was reverberating around the stadium and you could take it all in. In a lot of games there's so much pressure, it's so intense. But you could literally enjoy 30 minutes under the lights at Wembley at the European Championships against the Dutch and take it all in – you could almost hum along. You felt like you could run all night, you can't give the ball away, it's impossible. It was just surreal."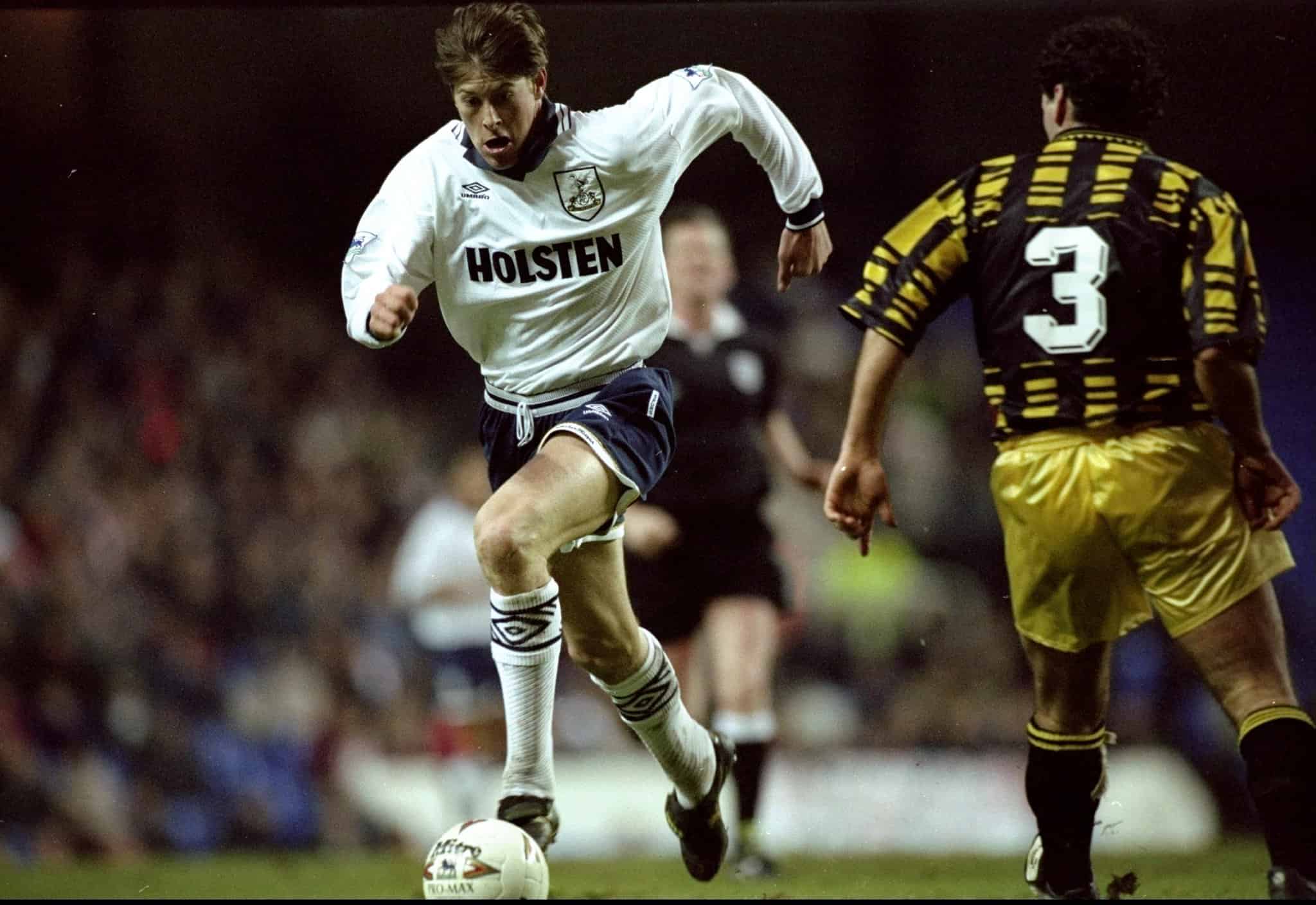 By that point, Anderton was coming off the back of his fourth full season at White Hart Lane where he was a bona fide star. Just 12 months prior, he'd turned down Manchester United – a decision which gave the winger a unique insight into the negotiation tactics of the club's then-chairman, Alan Sugar.
"I didn't go to Manchester United in 1995 because he was desperate for me not to go and I loved that," Anderton explains. "He'd given me a contract which had a clause which meant if a team offered a figure I could go. That figure was not what it should have been considering I was in the England team and playing great. When Fergie (Sir Alex Ferguson) came in he just wanted to know what the figure was."
Having informed Sugar of his intention to stay, things became trickier when Ferguson declared Anderton his only summer transfer target. "I remember getting back in the morning and then answering the phone to Sir Alex Ferguson saying 'Yeah, I'll have a chat' and going in the afternoon to see Alan Sugar and he would not leave without signing. I remember saying 'What about a sponsored car?' and he said 'You've had enough. You can have that' pointing to his grandson's little dinky car. I didn't want to go and they'd just got rid of Paul Ince, Andrei Kanchelskis and Mark Hughes. I was really happy."
While Spurs didn't challenge for silverware to the same extent as United during Anderton's time in North London, he was happy and that owed a lot to the managers he worked with at White Hart Lane. One former Tottenham icon in particular.
"When Ossie (Ardiles) came in I was gutted Terry Venables had gone," Anderton says. "I loved Terry, he bought me, showed me faith and he was almost like a father figure. Ossie came in and said 'I want you to get wide. If you're not getting on the ball, go and get it. I want you on the ball and making things happen.' Training was so much fun.
"That following year the Romanian boys (Gheorge Popescu and Ilie Dumitrescu) and Jürgen Klinsmann came in and we were now the team to watch. Every pre-season game was delayed due to the crowds!"
If Ardiles was already popular from his playing days, his commitment to attack – a legacy secured by his lopsided Famous Five system comprising Anderton, Nicky Barmby, Teddy Sheringham, Klinsmann and Dumitrescu – meant he was adored by his players.
"It was just such a great concept to play in but we didn't quite get it right defensively. I wish so much that he was given more time and that's down to the players," admits Anderton. "Ossie just had a great mentality. What do we do when we lose the ball? 'Don't lose the ball! You're top, top players, just get into shape'."
And, on the subject of staying in shape, Anderton is only too happy to lend his support to the Bobby Moore Fund for Cancer Research UK, which raises vital funds for research into bowel cancer and increases awareness of the disease.
"A couple of weeks ago I did my own health assessment which I never really thought about as a footballer," Anderton explains. "Now there's a reality for me, getting into my higher 40s, that you just don't know.
"You should always look after yourself and do the right things. You service your car, so why not service yourself? These sort of things, once they happen, it can be too late. I find it scary to think about so to help with the awareness of it and how we should look after ourselves, I'm proud to be part of it."