What is lithium grease?
Lithium Grease has become a staple of an engineer's tool box, being used for a number of different things. There are 3 main constituent parts to a grease: –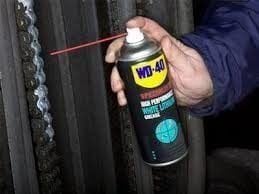 Put simply, the oil is the main lubricator; the thickener determines the characteristics of the product; and additives enhance the operating properties of the grease.
Lithium is a type of thickener; so not only provides structure to hold the oil in place, but it also acts as a sponge by releasing small amounts of oil during use.
There are several different types of thickener depending on application requirements and factors; such as moisture levels, extremes of temperature and speed.
However, for many applications that are deemed non-extreme or general purpose in nature, Lithium is a popular choice
Thick lithium grease solution provides – great long-term lubrication
High viscosity formula – won't drip or run
Works well under pressure – ideal for load bearing connections
Reduces friction and wear
Perfect for metal-to-metal applications
Water and heat resistant – great for outdoor use
WD-40 thick High-Performance White Lithium Grease lubricant provides great protection for heavy duty, metal-to-metal applications. It can be used outdoors regardless of weather and temperature conditions.
The high viscosity water-resistant formula won't drip or run, remaining where it's applied through all weathers, and through temperatures from -18°C to +145°C
This makes it ideal for use on automotive connections, tow bars, gear and brake mechanisms and CV joints.
WD-40 High-Performance White Lithium Grease lubricant is also great for use on gardening tools; keeping them in good working order through the seasons with minimal maintenance. Use WD-40 White Lithium Grease to keep components moving smoothly and free of friction and seizing, as well as preventatively to protect against rust and corrosion.
Motor pivot points
Bearings
Winches
Pistons
Conveyors
Tracks and runners
Cables and chains
Water pumps
Gear and brake mechanisms
Latches and hinges
Gardening tools
Tow bars for trailers/caravans
What's more, with the Smart Straw applicator, you've got two ways to spray!
Use the flip up straw for hard to reach areas, such as inside chains, locks or rollers.
Flip it down to use the wide-angle spray eye for area coverage on surfaces.
Whichever way you need to spray, you can rely on the clever 360° valve to work efficiently at every angle, even upside down.