What is cutting oil and its purpose?
Cutting fluid is a type of coolant and lubricant designed specifically for metalworking processes and used for machinery such as:
Hand cutting machinery
Power cutting equipment
Hand drilling
Thread cutting
Power drills
Why do we use cutting oil?
Unless you're doing dry machining, you'll use some cutting oil or fluid in your machines. Cutting fluids and oils provide lubrication and cooling. Cutting oil is designed to maximise the life of cutting and drilling equipment; working under extreme pressure, improving performance and extending the life of tools. Cutting oil improves machine finish, lubricates to reduce tip welding and prevents pitting and metal seizures.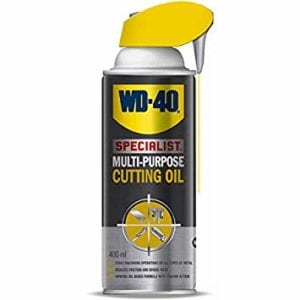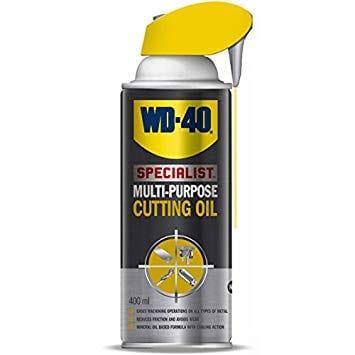 WD-40 is known as the can with a thousand uses, but sometimes you only need it for that one application – again and again and again. Our Specialist range captures some of the individual properties of our original formula that are most valued by industry professionals, developing them into intense-use, job-specific products that can be used repeatedly for routine tasks throughout a range of workplaces and environments.  Cutting Oil is one part of that specialist range.
 WD-40 Multi-Purpose Cutting Oil
This specialist product offers a formulated blend of lubricants, extreme pressure additives and supplementary components designed to improve the performance and extend the life of your cutting and drilling equipment.
Cutting blades and drill bits perform under intense pressure, at the mercy of friction and heat build-up that can dull blades, dampen bits and compromise a professional finish on work.
Our Multi-Purpose Cutting Oil is specifically designed for use on stainless steel and titanium components, to prevent pitting and metal seizures, ease mechanical processing of metals, reduce frictional heat accumulation and damage from frictional forces.  All of this working together to give you an exceptional finish to your work, as well as protecting and prolonging the life of your equipment.
Our Cutting Oil is just one product in a range of Specialist Equipment for the professional; https://wd40.co.uk/specialist/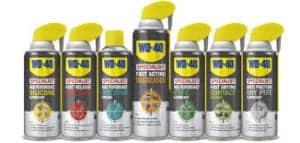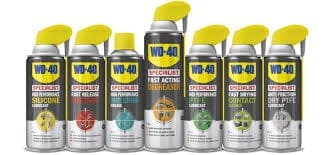 With the Smart Straw applicator, you've got two ways to spray; use the flip up straw for hard to reach areas, such as inside chains, locks or rollers, then flip it down to use the wide-angle spray eye for larger area coverage on surfaces. Whichever way you need to spray, you can rely on the clever 360° valve to work efficiently at every angle, even upside down.